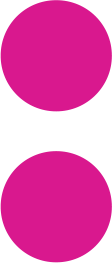 "Being loud together, telling it like it is – that's what will always remain important!" That's the message of Reem Alabali-Radovan, the Federal Government Commissioner for Migration, Refugees and Integration and Anti-Racism, in a video address to the award ceremony of the European CIVIS Media Prize for Integration and Cultural Diversity. The event was held for the 34th time on Friday, 3 June 2022. Once again, media professionals were honoured for outstanding productions – television, radio, internet, cinema – dealing with issues of integration and cultural diversity.
You can call it a tradition. It reaches beyond the horizon of topicality – the problems in the CIVIS focus are not solved once and for all at some specific point in time. WDR Director-General Tom Buhrow sums it up in the recorded video of the friends and partners of CIVIS: "The CIVIS Media Prize took up migration, integration and anti-Semitism long before they were established on the political agenda." A view shared by Christiane von Websky from the Mercator Foundation, which is promoting a new podcast and a new Insta-Live format from CIVIS: "The issues to which CIVIS has dedicated itself always remain topical!" The friends and partners agree on this. Every year, CIVIS "opens my eyes anew to the fact that we have to be awake and stop ourselves from stagnation", says producer Minu Barati-Fischer. "What makes CIVIS special is that it screens a wide range of journalistic formats," Deutschlandradio Director-General Stefan Raue declares. And DW director Peter Limbourg sums it all up: "CIVIS is always important!"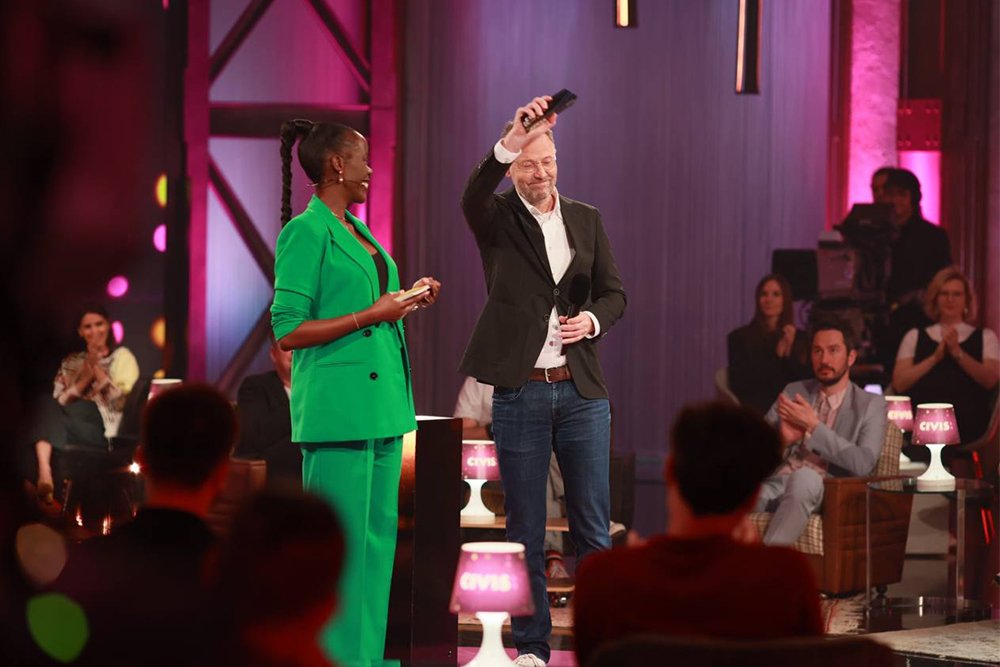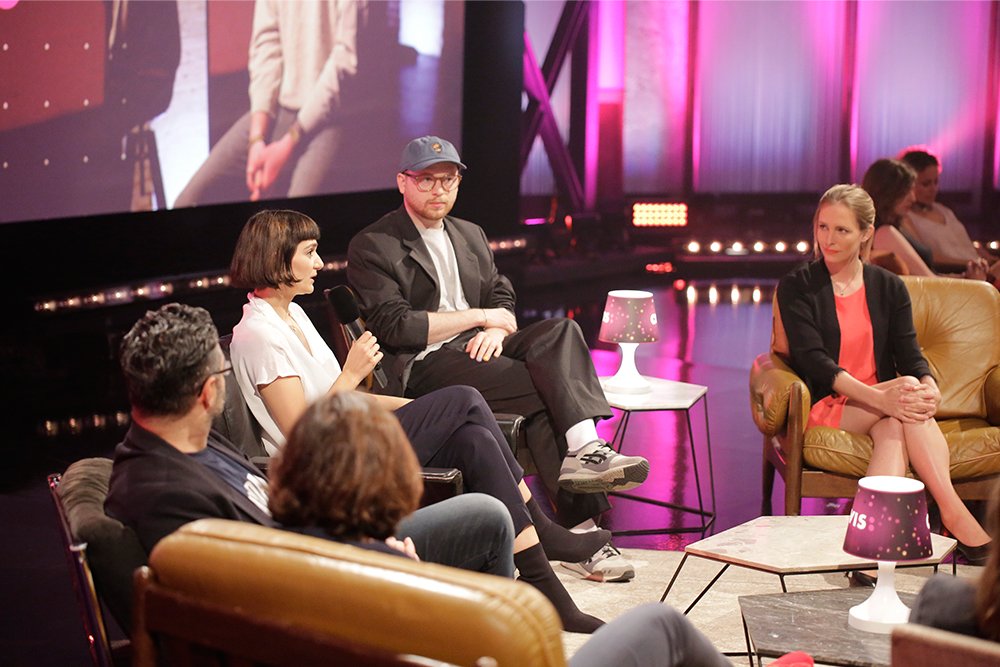 Special times
Nevertheless, these are special times, of course, also for CIVIS and the Media Prize. Presenter Anna Dushime points this out right at the beginning of the award ceremony. For over 30 years, CIVIS has stood for cohesion in immigration societies and for the way the media deal with it. "But media can also divide. We realise again in this time of the Russian war against Ukraine how important is free reporting that fights for integration and respect." Gilles Marchand, Director General of Swiss Radio and Television (SRG SSR) agrees in his video message: "Especially with the current situation in Europe, these values are more important than ever."
The competition for the prestigious prizes is impressive evidence that the class of 21/22 has successfully taken on the task. This is generally true for the large field of almost 800 entries from 20 EU countries and Switzerland. And it applies especially and brilliantly to the nominees and prize-winners in the eight different categories for electronic media productions.
For example, for "Black Eagles", winner in the Video Information category. Torsten Körner's documentary film describes the fate of black footballers who were the first to make it into the German national teams. They were cheered for their goals on the pitch and ridiculed because of their skin colour. "That's when I first understood what the N-word meant," says one of the Eagles, Schalke legend Gerald Asamoah. Sportschau presenter Esther Sedlaczek, in her laudatory speech recorded for the awards gala, draws a connection to the present: "Even if some things have changed for the better – racism in football continues to smoulder." Author Torsten Körner ("a football boy born in 65") can confirm this: Things have improved in the top leagues, but "there is an incredible amount of racism in the smaller stadia".
The winning production in the social media category describes a particularly depressing situation. "My Scar" by Fitore Muzaqi, Henrik Schütz and Stefanie Vollmann (WDR Cosmo) is about the experiences of a young man who survived 48 days in a Syrian torture prison and now has to come to terms with the trauma. "He dares to take first steps into a new life", explains actor, musician and producer Tyron Ricketts in his tribute. "What Martin has to tell will stay with you." It is a model case of deep-probing journalism.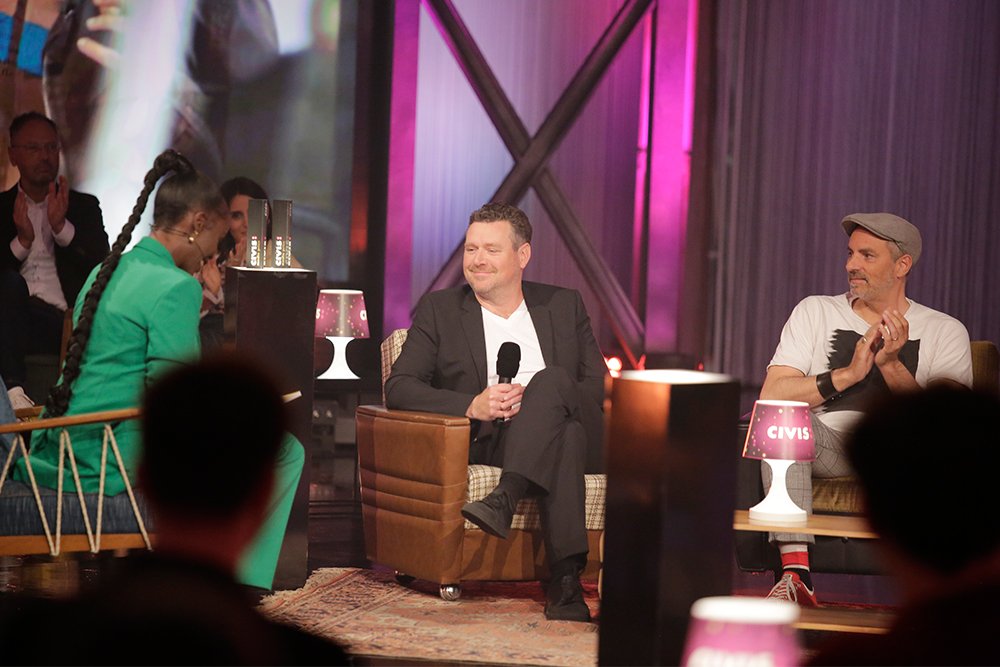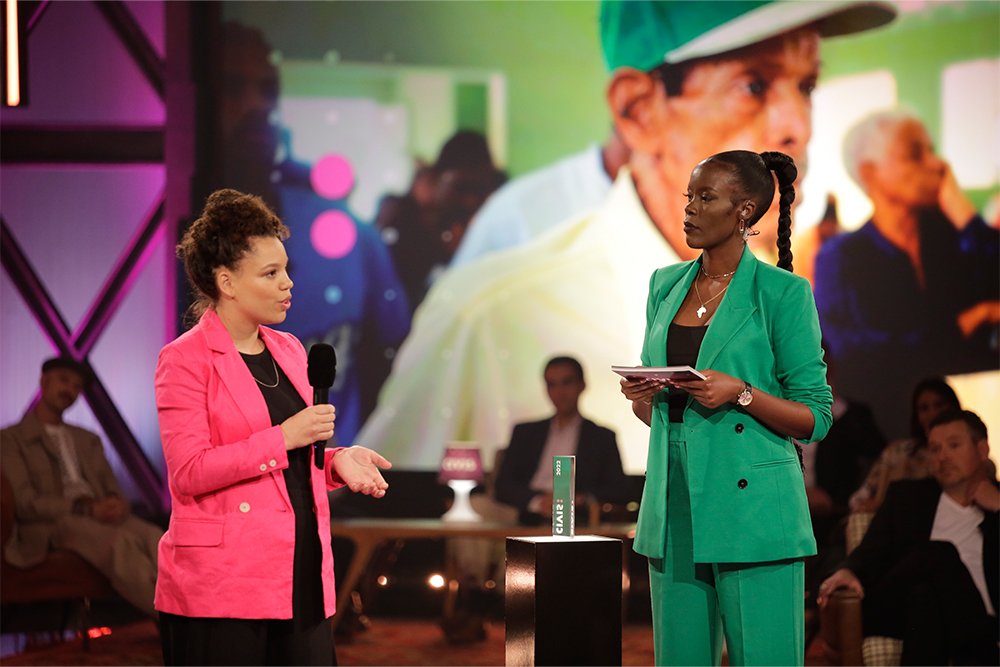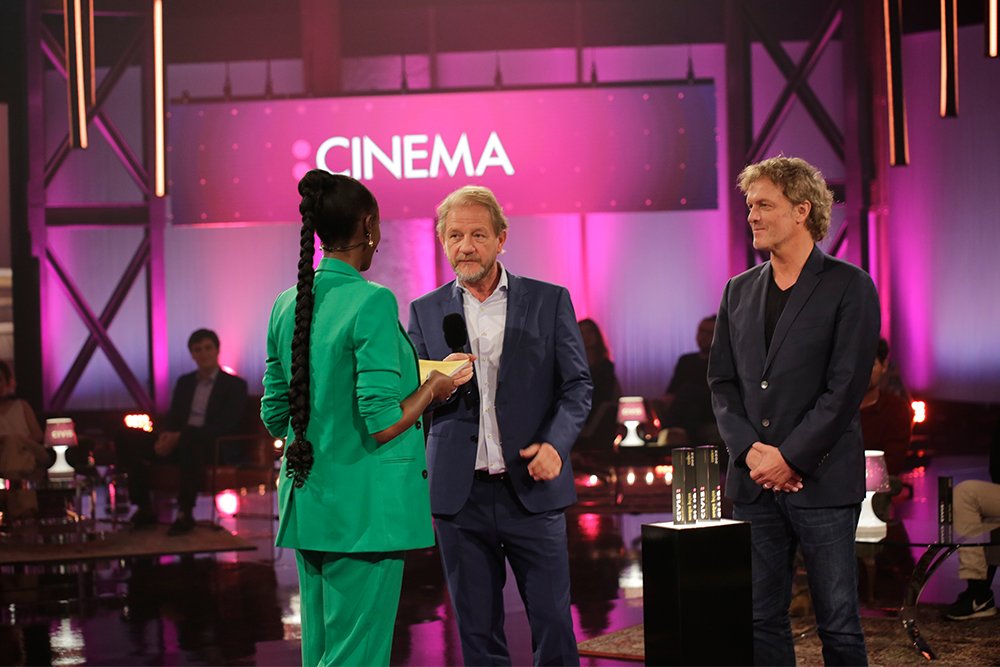 Diverse perspectives
The winner of the Young C. Award meets another CIVIS core concern: differentiation, especially when looking at complex problems. "The Four Winds" ("Los cuatro vientos") by Anna-Sophia Richard describes what migration does to the inhabitants of a village in the Dominican Republic. The film accompanies emigrants, those who stay behind and those who return home. It portrays hopes and disappointments, pride and sadness. "It does not pass moral judgements, but makes conflicting feelings tangible through outstanding directing and camera work," the jury says in its statement. This is in line with the message by Andreas Freudenberg, Chairman of the Board of Trustees of the Freudenberg Foundation, that "CIVIS stands for diversity of life plans, realities and perspectives." It is also a case in point of what ORF Director General Roland Weißmann refers to as CIVIS' ambition to have issues "brought before the curtain". And, he adds, "society cannot afford to do without it."
"A masterpiece that will have a long lasting effect," is introduced by laudator Joachim Gauck. The former Federal President is visibly impressed by "Die Wannseekonferenz", a feature film for ZDF. The prize is shared by authors Magnus Vattrodt and Paul Mommertz. Gauck: "In 90 minutes – feature film length – a group of men designs an unprecedented programme: human contempt is to be turned into human destruction." The brilliantly staged film closely follows the minutes of the monstrous meeting. It is not just a means to establish historical truth, the former Federal President explains, "We recognise: Hatred of humanity, misanthropy and the intention to kill still exist, even today."
The winner among the cinema films, the CIVIS Cinema Award, is traditionally chosen by the audience. This year, it voted for Sönke Wortmann's "Contra". Using razor-sharp and witty dialogues, the film follows the trial of strength between a conceited law professor with a penchant for racist slogans and a young student from a family with an immigrant background. It's about rhetoric, about the art of debating, about dislike that turns into sympathy, and "it's all very entertaining and stimulating at the same time," says the laudator, actress Melika Foroutan.
Wortmann claims that it was not in the least difficult to push the two main actors, Nilam Farooq and Christoph-Maria Herbst, to top performances. "They play it, and I just watch!" As the director Wortmann and producer Christoph Müller report, the comedy has had an unexpected side effect: the feedback shows that it has breathed new life into a rather underdeveloped debating culture in German schools.
Rare insights
The winner in the podcast category was also decided by public vote. "For me, it's heart warming," confesses Anna Dushime, the moderator. "I love podcasts!" And this one has something special to offer: Season 1, episode 4 of "Zweidrittel FM" is a production behind bars, created in a Berlin prison. A team of journalists, prisoners, musicians and teachers investigated the question "Is there friendship in prison?" And, with the help of two inmates from Iraq, arrived at the answer: Yes, there can be. "It's not a friend, it's my bro," says one of them about the other. "A glimpse into a world of which most outsiders have no idea," the jury rightly concluded.
It doesn't always have to be an elaborate production that wins one of the glass prism steles – CIVIS' counterpart to the Oscar. This is especially true for the audio category (short programmes), for contributions of a maximum of six minutes. Alexander Moritz's piece for the morning information programme of Deutschlandfunk explained the "coalition dispute in Saxony over the deportation of well-integrated Georgian families". That sounds like prosaic routine – and yet, in the words of laudator and choreographer Nikeata Thompson, it "makes clear how inhumane German asylum policy can be".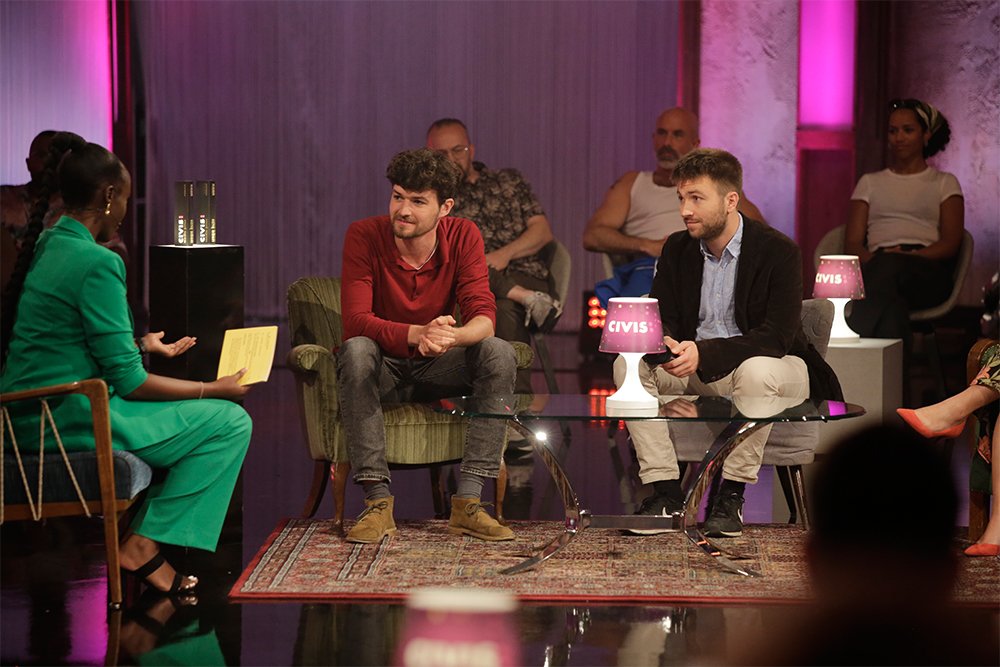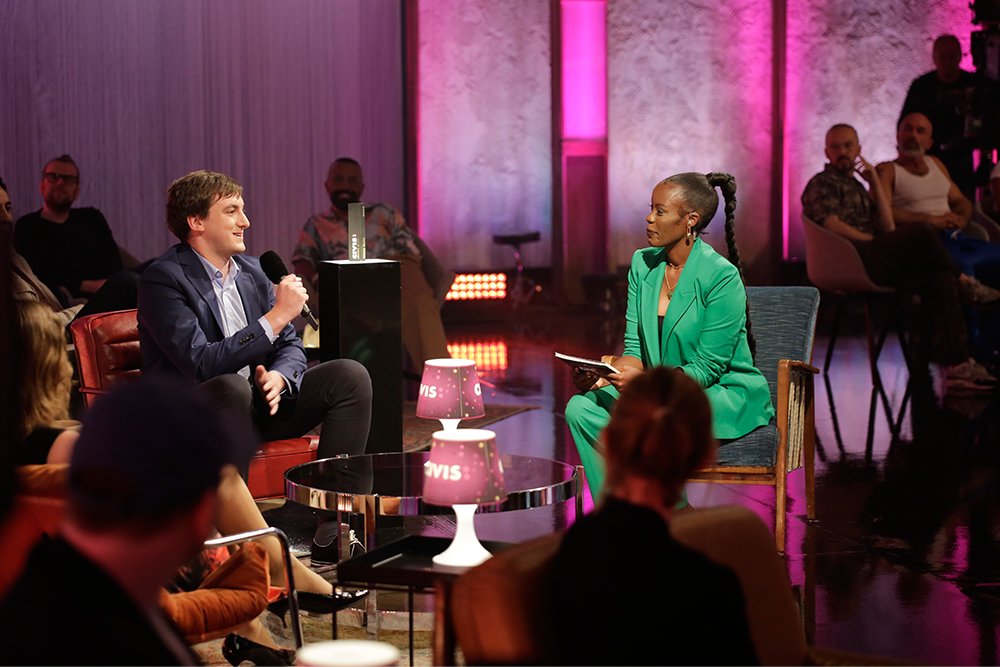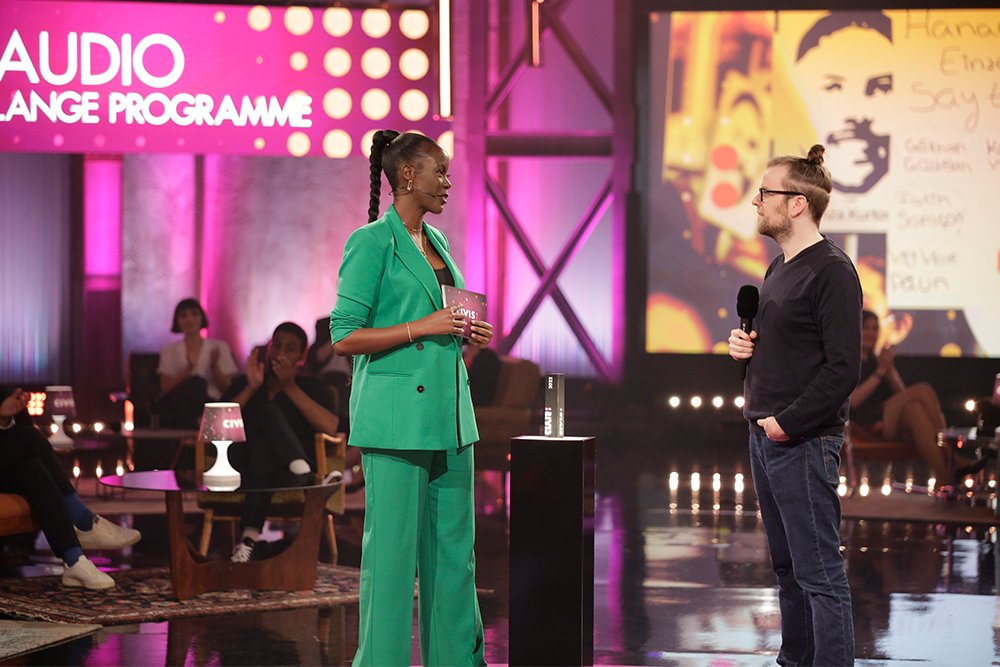 Last but not Least
The prize for long audio productions goes to Sebastian Friedrich's stirring documentary "Der letzte Tag". It investigates the racist mass-murder attack in Hanau, the course of events, the failure of the authorities, the suffering of the relatives, but also everyday life in the Hanau district of Kesselstadt. It is "a harrowing picture of the devastating consequences of racist thinking," says actor Bjarne Mädel in his laudatory speech. "No-one listening to this feature will ever forget the dead."
That, says author Friedrich, is not just a question of professional skill. He was only able to gain access to those involved and affected because he had enough time – and an appropriate budget for research and recording. "I had the money!" Quality needs a deep pocket? Not always, but certainly sometimes when it comes to journalism digging deeper and more thoroughly.
The gala closes with the Top Award, an additional prize for one of the eight candidates who have already been crowned. This year it goes to "Black Eagles". Director Torsten Körner ("mein Herz klopft") is surprised – he had no idea the Top Award even existed. And what does he do with it now? "Maybe I can use it to pay for my daughter's graduation dress." 15,000 euros? Might just be enough.
Header: WDR/ Dirk Borm
Fotos: CIVIS Media Foundation / WDR / Dirk Borm/ Halim Dogan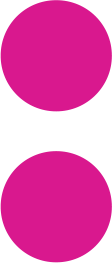 There are beaming winners, valuable prizes and impressive contenders for one of the CIVIS Awards. There is jubilation, tearful emotion and a lot of applause. The latter is delivered by the nominees themselves because, due to Corona restrictions, no live auditorium can be admitted to the WDR studio in Bocklemünd, a Cologne suburb. It is the 34th time, that outstanding media productions on migration, integration and cultural diversity are awarded the coveted CIVIS prize, and pandemic rules still apply. But the annual gala has reclaimed its traditional spring date and host Jaafar Abdel Karim is presenting it with as much verve as if he was addressing a studio packed to the rafters.
CIVIS is moving on despite a tougher climate in society. CIVIS is needed, especially when the going gets tougher. Annette Widmann-Mauz, the Federal Commissioner for Integration, makes the point in a video message by CIVIS friends and partners: "Social cohesion is put to the test by the pandemic". ORF Director-General Alexander Wrabetz agrees: "It's important to have an award focussing on the issues of solidarity and social cohesion." CIVIS adresses those issues particularly when they come under pressure. "The fight againt racism and prejudice and for a more coherent society is always a current issue – this is not a question of changing fashion", WDR Director-General Tom Buhrow declares.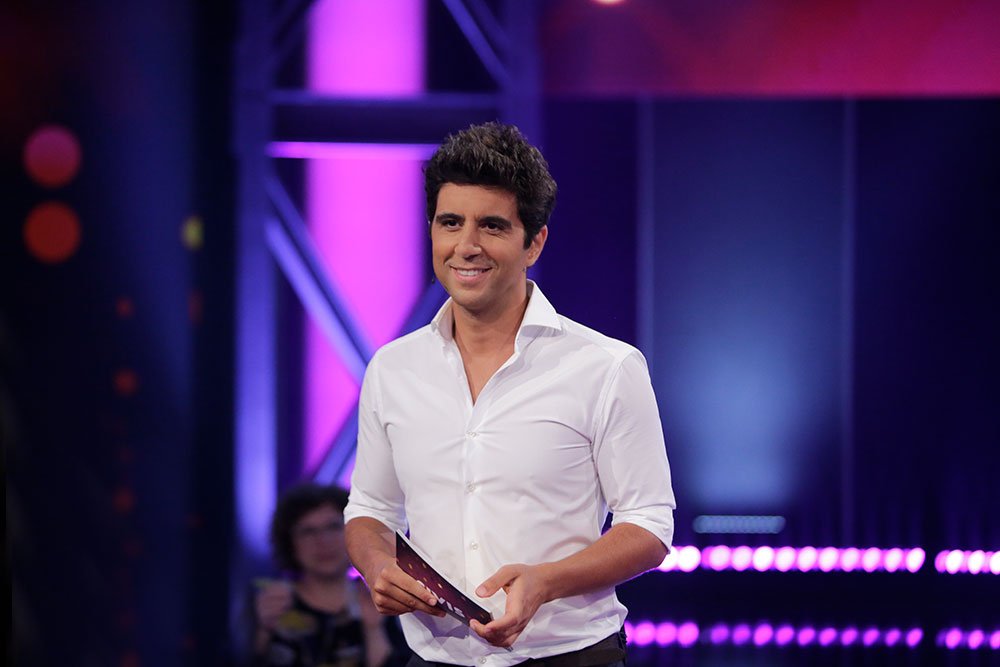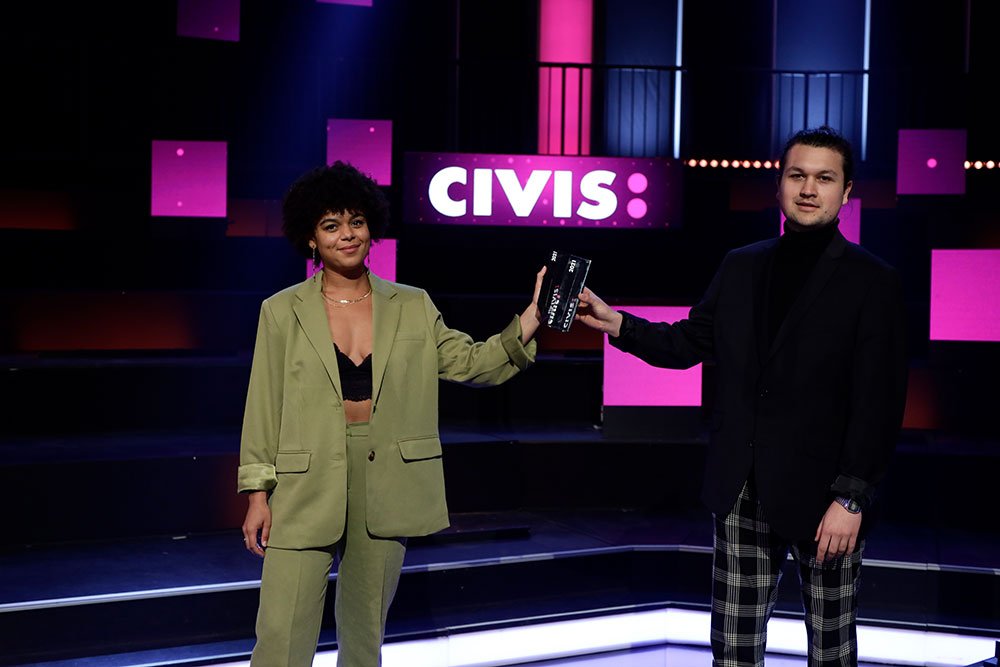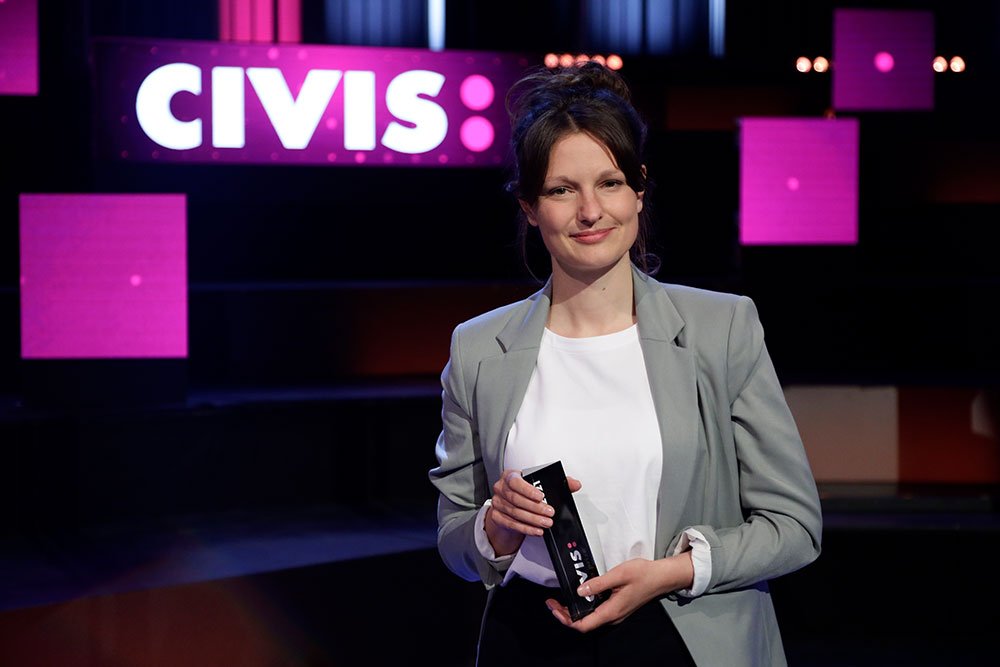 Cohesion is a long-time task
Over recent weeks and months, racist and anti-semitic assaults have demonstrated with unfettered brutality: Engaging for people with different backgrounds or religion living together in peace is not a short-term job. It is a permanent task. And the commitment to it has not been diminished by the pandemic. Close to 800 programmes – television, radio, internet – from 20 EU countries and Switzerland have competed for one of the CIVIS Media Awards. And again, not only did they deal with a multitude of problems faced by migration society but made clear as well how much we all stand to gain through diversity.
Take for instance the lesson to be learned by "May I Touch Your Hair?" ("Darf ich dir in die Haare fassen?"), winner in the Video Social Media category: Racism sometimes begins earlier than you think. Black people and People of Colour often meet somebody who feels free to touch and tussle their hair. Just like that. Just like that? The WDR Cosmo team has turned the table and asked passers-by would they mind having their hair tussled by a stranger? And – surprise! – some of them did, feeling a little awkward anyway. It is a provocation with a message. Actress Collien Ulmen-Fernandes, in her screened presentation of the video, has this to say: "The film makes clear why this gesture is a transgression, an element of everyday racism." Thus, the video promotes an insight considered important by Andreas Freudenberg, head of the Freudenberg Foundation's Board of Trustees: "Community spirit will only develop through continuous efforts for a country's political and social cultures."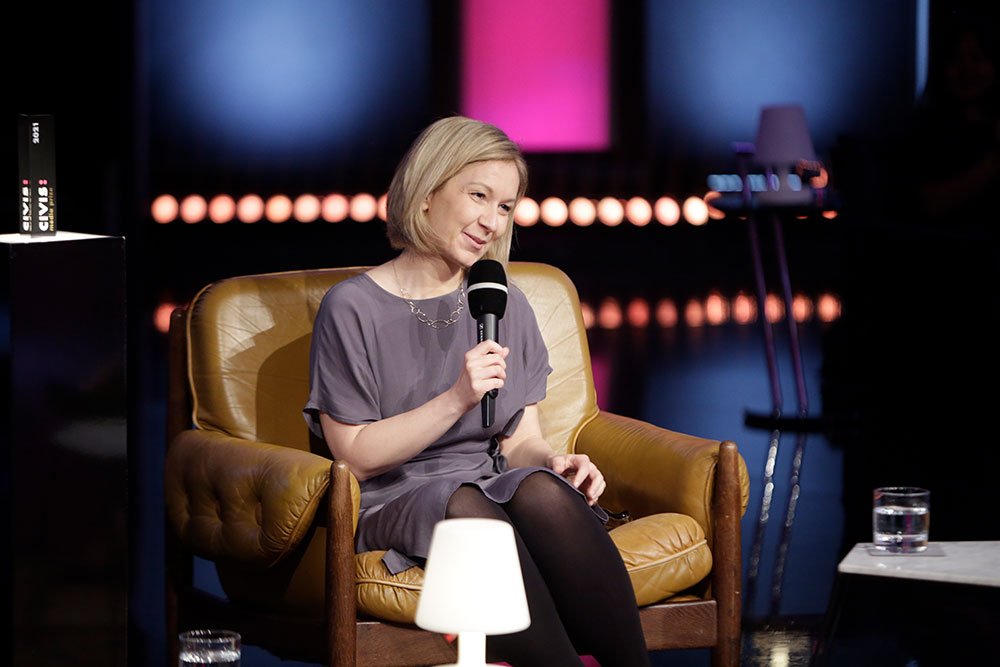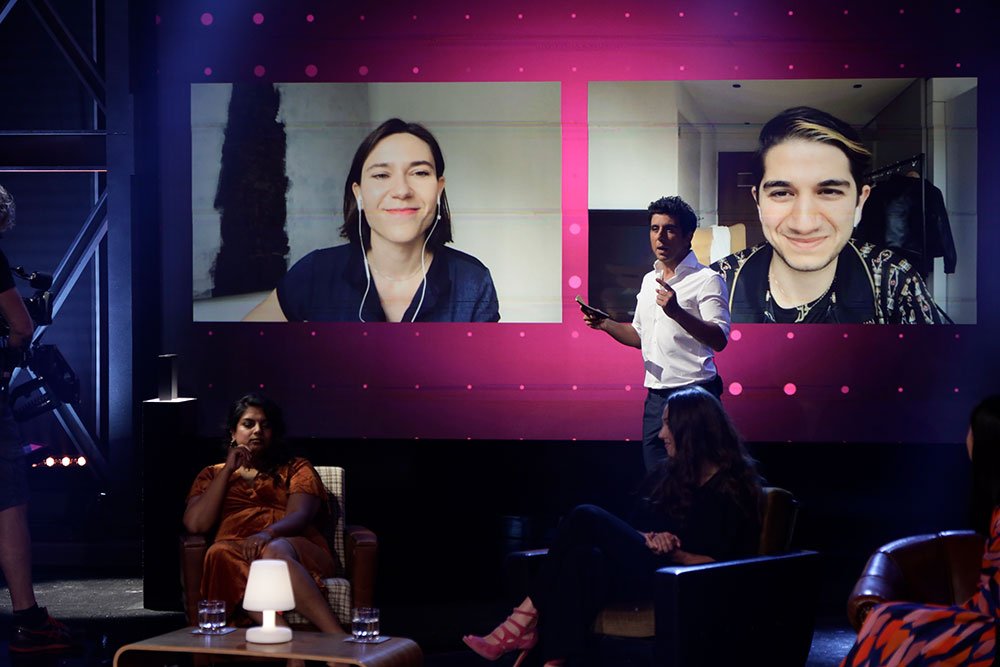 Courage, skill and tenacity pay off
A concrete lesson learned is behind the film "Seahorse" ("Seepferdchen"), director Nele Dehnenkamp's winner of the YOUNG C. AWARD: "Many migrants can't swim." Hannan, a Yesidi girl, had to learn it as well. Now she is teaching it to her brother and other children. Because swimming is important – it is life-saving. For Hannan, water is a dream and a nightmare at the same time, a constant reminder of her crossing of the Mediterranean in a dinghi. The haunting images are with her still. And yet, says actress Maryam Zaree in her presentation, "this wonderful film shows how to finally face your fears".
Clearly, the investigative champion among this year's contenders is "Rightwing. German. Radical" ("Rechts. Deutsch. Radikal"), winner in the Video – Information category. Following one and a half years of investigative research, Thilo Mischke and Anja Buwert offer a disturbing but instructive view of Germany's ugliest face, a close-up of Nazis and those aspiring to become Nazis. Brown-shirt coziness, fanatical racism and open brutality come to the fore. "It takes courage, skill and tenacity – and that paid off!", says presenter Wolfang Niedecken, founder of the legendary Cologne rock band BAP. "It is a fascinating portrayal of the many facets of Germany's right-wing scene." Mischke's and Buwert's team is particularly proud of strong interest in their film shown by schools – "surely the most rewarding feed-back of all!"
Ignorance and xenophobia are also at the centre of Claudi Gschweitl's radio report "Welcome to Weikendorf" ("Willkommen in Weikendorf"), which carries another of the 2,000 euro prizes, in the AUDIO LANG category. In Weikendorf, a village in Lower Austria, a family from Palestine wants to buy a house. The mayor objects, a citizens' initiative confronts the unwanted immigrants, the escalating conflict shakes the whole community. People don't talk to each other any more. It could just as well happen anywhere else in Austria, says Gschweitl. Bestselling author Frank Schätzing, in his laudatory address, agrees: "It is a lesson on racism that reaches far beyond Weikendorf."
Everyday life stories
The CIVIS-winner in the cinema category is again chosen not by a jury but by popular vote. "Future Three" ("Futur Drei") is the story of young Parvis whose family has come from Iran. Now he is searching for his identity in Germany. "I have to make my own experiences", he tells his mother, who is still dreaming of Tehran. He makes them in a home for refugees, in a gay club, in his parents' traditional household, in the streets at night or in the countryside. He meets Banafshe, whom the authorities want to send back to Iran, and he meets her brother, with whom he falls in love.
Director Faraz Shariat has refrained from shooting a heavy problem-laden film, actor Christoph Maria Herbst says in his laudatory message. "This is about the lives of young people – and narrated in the words, images and the language of yound people". Thus, it meets what film producer and CIVIS partner Minu Barati (Produzentenallianz) wishes for: "More normality for future generations of the children of migrants. They are no aliens!" And what about "Future Three", the enigmatic title, studio host Jaafar Abdul Karim asks the producer. Paulina Lorenz: "Because this ist about the future … three people's utopia."
"Gentlemen" ("Herren"), the winning film in the VIDEO Unterhaltung category, is all about the present. It is an everyday life story – black people's everday life in Germany, that is. Sure enough, they are confronted with discrimination, prejudice and resentment regularly. But their life is about more than that. Ambition, family strife, ageing play an important part as well. That can add up to "a normal male midlife crisis", says script writer Stefanie Kremser. It took ten years to produce a film that is a premiere of a special kind. Actress Annette Frier explains in her presentation: All actors are black – "you have never seen that on prime-time ARD television!"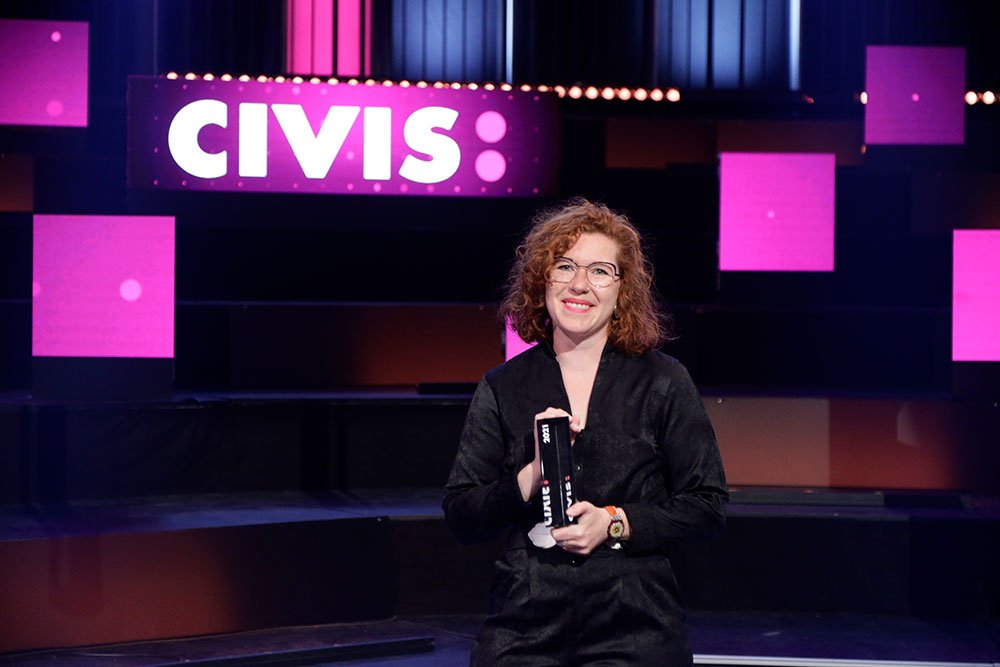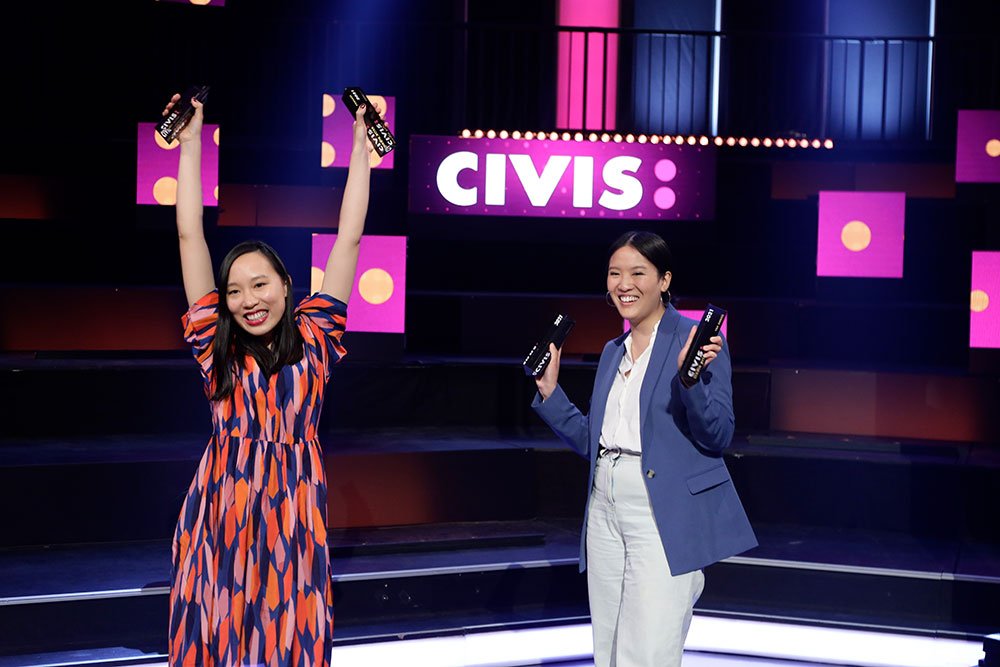 Against the logic of hatred and vengeance
All are visible moved by the winner in the AUDIO SHORT category , "It's Just Words We're Left With" ("Uns bleiben nur die Worte"), those present in the studio, laudator veteran German soccer international Gerald Asamoah, and even the award-winning author Sabine Wachs. Her report tells the story of two fathers who lost their children in the terrrorist bloodbath of November 13, 2015 in the Paris concert hall Bataclan. One father lost his daughter, who was among the victims. The other lost a son, who was one of the attackers. But the two refuse to enter the logic of hatred and vengeance. They listen to one another and realize: They are both bereaved. "How much courage and empathy these fathers need to have to open up in that way", Asamoah marvels.
The TOP Award, "the prize of all CIVIS prizes" (Abdul Karim), goes to the winner in the Podcast category: "Rice and Shine: Hamburg 1980 – when right-wing terrorism flared up again" ("Rice and Shine: Hamburg 1980 – Als der rechte Terror wieder aufflammte"). 40 years have passed since two young Vietnamese men were killed in an arson attack on a home for refugees in Hamburg. It was the first ever racist murder case in the history of the Federal Republic – and it has long disappeared from public awareness. "How can that be?", asks TV presenter Dunja Hayali, presenting this year's double winner. Vanessa Vu and Minh Tu Tran have reconstructed the assault and describe how the mother of one victim is fighting for some sort of memorial. It might still happen, thanks to the reminder by "Rice and Shine": The two film makers donate the 15,000 euros in prize money to the memorial initiative.
CIVIS is moving on in testing times and "because we have to demonstrate how important is immigration", says Deutsche Welle Director-General Peter Limbourg. The prizes do work because – in the words of SRF/SSR Director-General Gilles Marchand – they promote "respect for heterogeneity, for being different". And, adds Deutschlandradio Director-General Stefan Raue, CIVIS is an option for all committed to this task "to engage and exchange on these issues."
Header: WDR/ Dirk Borm
Photos: CIVIS Media Foundation / WDR / Dirk Borm
The CIVIS Media Award is for editors and filmmakers "who have the guts to make something happen", says Annette Widmann-Mauz, Commissioner of the Federal Government for Migration, Refugees and Integration. CIVIS is all about migration, integration and cultural diversity – issues easily leading to conflict. CIVIS prizewinners are often confronted with unacceptable social evil. It takes investigative courage to detect and uncover serious violations of civil behavior and human rights. And it takes narrative skills and formal creativity to turn the evidence into a convincing media product. When this is achieved, the result can be "an emotional roller coaster", Widmann-Mauz says. "One moment, you hold your breath because of the suspense. The next moment you hold your stomach with laughter. And then you are deeply shaken and moved to tears." This Friday, the roller coaster is set in motion again.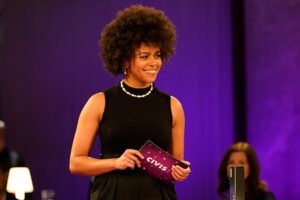 It is the 33rd time, the CIVIS Media prizes are awarded. Normally, this is a gala event staged at the Foreign Office in Berlin. The corona virus, however, has forced organisers to downgrade. Instead of the prestigious Weltsaal in Heiko Maas' ministry, the ceremony is held at a WDR studio in the Cologne suburb of Bocklemünd. Only about two dozen people have been admitted to follow the ceremony. As with the Oscars in Hollywood, winners are presented by prominent media and culture figures – not in person but in short video clips. Live action is left to studio presenter Aminata Belli and the nominated contenders for seven different prizes unless the pandemic has prevented them from travelling.
The setting may be more prosaic than usual but that is not inappropriate. More than 900 television, radio and film programmes from 22 EU countries and Switzerland entered the coompetion. "Some positive things were also reported", says Aminata Belli, the presenter. But many entries focus on situations of shameful misery: African refugees perishing in the Mediterranean, violence at EU borders, inmates tortured in Syrian prisons, discrimination and exploitation of ethnic minorities in the Balkans, xenophobia and social disruption, anti-semitism and rampant nationalism.
Andreas Freudenberg, Chairman of the Freudenberg Foundation's Board of Trustees, the CIVIS Foundation's main supporter together with WDR, has sent a video message: What he wants for his children and grandchildren is "a society living diversity and enjoying it". There's a long and hard road ahead, entries in the CIVIS competition demonstrate. On the other hand, they are an encouragement to keep on trying. They don't indulge in cheap sentiment. They point out serious flaws in our societies and call for action. That can be polemical, that can be moving. And sometimes it can be very funny.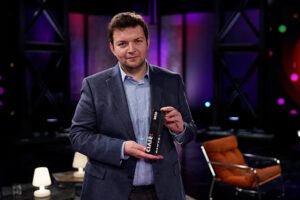 As is the case with the double winner, of the CIVIS TOP AWARD and the YOUNG C. AWARD for the best programme by a young generation director. Masel Tov Cocktail was created at the Baden-Württemberg Film Academy and co-produced by SWR and ARTE. It tells the story of Dima, a young Jew whose family emigrated to Germany from the former Soviet Union. When it comes to Jews, Dima claims, German cinema only knows two colours: black and white. "And we hardly ever strike back … but this is not that sort of film!!" Dima does strike back, breaking the nose of a fellow student who has hurled vicious anti-semitic abuse at him.
Is Dima right to react with physical force? Or completely wrong? He is not sure himself. "Anti-semitism is like herpes – nobody knows an effective remedy for this shit!" What we believe we know turns out to be a bunch of stupid stereotypes, ridiculed one by one with clinical precision in Masel Tov Cocktail. "Directors Arkadij Khaet and Mickey Paatzsch have pinpointed the tension between anti-semitism, attributions and patronising empathy quite wonderfully", actress Iris Berben says in her presentation of the film.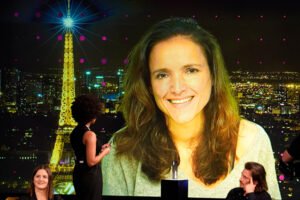 The Award for best Video Entertainment (Fiction) goes to a French television production which also adresses serious conflict with a sense of the comical side of things. Christel Gonnard and Pauline Rocafull, in their film Classe Unique (France Télévisions/France 3) illustrate Freudenberg's message that life in cultural diversity is a great challenge for society and a spezial task for the media. The two filmmakers describe what happens in a French provincial town when a group of refugees arrives. The community is sharply divided between those welcoming the newcomers and those fiercely opposing them. The conflict turns violent, the refugee quarters go up in flames. But not all is bad in villages like the fictional St. Laurent, says Rocafull. They suffer from shrinking population as the young ones move to the cities, and sometimes it dawns on them, by and by, that migrants might be an asset rather than a burden. "Positive stories happen". So – is it comedy stuff anyway? The CIVIS jury thinks so: "It's a comedy along lines of tragedy." Presenter Tedros Teclebrhan aka Comedy Teddy concurs: "It made me suffer and it made me laugh."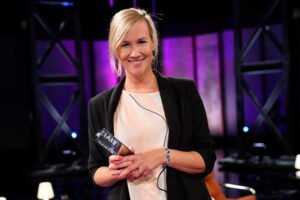 There is nothing funny in Anna Tillack's report on The Beggars From Walachia, a joint production of BR and Arte, which comes out top in the Video – Information category. The film dispels the myth that criminal gangs are invariably behind all those miserable foreigners hanging around outside our high street shops asking for money. That was Tillack's starting point as well. But then she found out that "reality is quite different." More often than not, it's utter destitution forcing members of the Sinti and Roma minorities in Romania to leave their children behind and move to the affluent countries further north. "The close look at individual human lives is particularly moving", says ORF director-general Alexander Wrabetz in a video message. His Swiss college Gilles Marchand, director-general of Swiss chains SRG SSR, agrees. CIVIS prize winners succeed because "protagonists manage to share their emotions and experience directly with the public".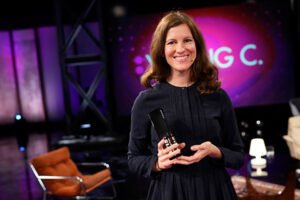 Soumayla Sacko, a former peasant from Mali now working as a harvester in Calabria/Italy is murdered. Franziska Sophie Dorau has investigated the background to the killing. Her radio report for ORF, The Death Of Soumayla Sacko, wins the CIVIS AWARD in the Audio – Long category. The jury calls it "a tale of slavery right in the middle of Europe". And it is an example of journalism with guts – the exploitation of foreign fruit pickers in Calabria is a business of N'Drangheta, the regional Mafia organisation. "Franziska Dorau describes the inhumane conditions for African harvesters working and living in Italy", says presenter Sandra Maischberger. And this is what the CIVIS Award winners are all about, film producer and CIVIS partner Minu Barati (Produzentenallianz) adds: "They make us realize that much too often in our petty, privileged life, we look the other way and paint us a much too rosy picture of the world."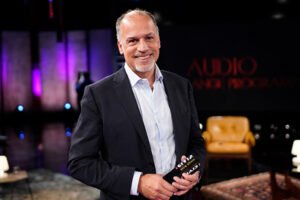 Neven Subotić, the Serbo-German football pro. Swiss radio reporter Peter Voegeli has researched a strange situation in the German city of Zittau, located next to the borders with Poland and the Czech republic. Prosperity in Zittau depends on open borders, one of the EU's main achievements. But almost one third of the electorate vote for the nationalist AfD party, which is decidedly anti EU. "Zittau profits from the EU. But the EU doesn't profit from Zittau", Voegeli wonders. His report Zittau – in the middle of Europe but not in the middle of the EU tries to give answers. It helps us "understand in concrete terms what Europe is all about", says Subotić. The report points to a dilemma adressed by WDR chief Tom Buhrow in his message to the ceremony: "The world is moving closer together – while at the same time being pulled apart by garish slogans."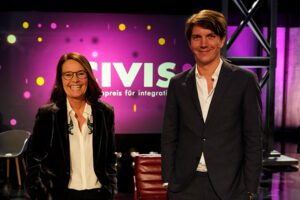 Traditionally, the CIVIS CINEMA AWARD is picked not by a jury but by public online voting. In her presentation of this year's winner, the actress Lena Klenke recounts how she was "totally surprised" when seeing the film for the first time although she was familiar with the story. Als Hitler das rosa Kanninchen stahl (When Hitler stole the rose rabbit) is based on Judith Kerr's classic youth novel, first published almost half a century ago. Since 2013 Jochen Laube, manager of producers Sommerhaus, had been planning for a film version. In the end, it turned out to be "a very quiet story", says director Caroline Link. It is a story that moved Klenke to tears when she watched the film in a small Bavarian cinema. The prize money is 2,000 euros in each category and 15,000 euros for the Top Award. But the team behind Masel Tov Cocktail, which has already been decorated with several other awards, decides to donate the money to two German NGOs. To strong applause in the studio, director Khaet announces that the Zentrum Demokratischer Widerspruch (Democratic Objection Centre) and the Amadeu-Antonio-Stiftung (Amadeu Antonio Foundation) will each receive one half.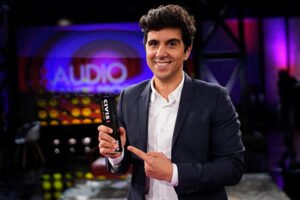 In addition, all winners take home a CIVIS Prism trophy. This includes talk show host Jafaar Abdul Karim, who is honoured with a special CIVIS Laudatory Mention for his immensely popular "Jafaar Talk" on Deutsche Welle's Arab language programme. The idea, Karim explains, is "to let different perspectives meet". Such as, for instance, a female Muslim activist and a leading Berlin figure from the AfD party. Which takes both skill and courage – and is in line with the intentions of Karim's boss at Deutsche Welle, director-general Peter Limbourg: "We must not allow our society to be divided!"
If you have missed the live stream of the ceremony there is the opportunity to watch it here. TOP AWARD winner Masel Tov Cocktail is available in full length here – an invitation to a free ride on "the emotional roller coaster". Check it out! The 2020 class of CIVIS prizewinners lives up to the promise of Deutschlandfunk director-general Stefan Raue: "There is always great freshness, great curiosity, great commitment."
Header: CIVIS
Photos: CIVIS Media Foundation / WDR / Ben Knabe